~ THE BUFFS ~
1901 onwards
EAST KENT REGIMENT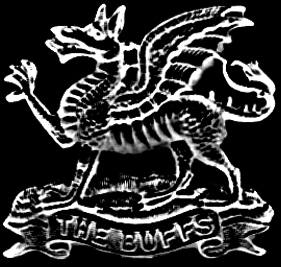 "The 2nd Battalion sailed on the Gaika on 22nd December 1899, and arrived at the Cape on January 13th, 1900."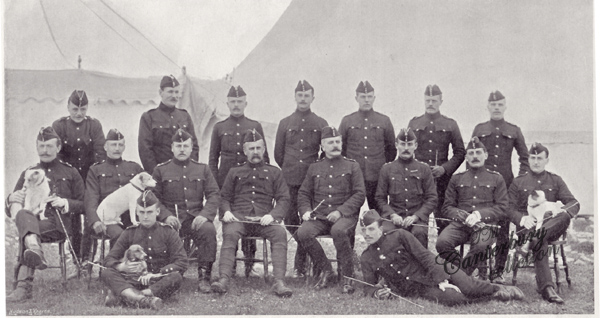 Photograph of the 2nd Buffs (East Kent Regiment)
The 2nd Battalion of the famous Buffs arrived at Cape Town in the "Gaika" on January 14th. under command of Lieutanant-Colonel R.A. Hickson*, who is here depicted with his officers, the illustration being from a photograph taken before the battalion left for South Africa. The regiment, which has arrived to take part in the operations directed by Lord Roberts, is one of the most celebrated in the British Army.
December 22, 1899, the Gaika sailed from Southampton, with the 2nd East Kent Regiment with 881 men. Col. R.A. Hickson*; Major J. B. Backhouse, Capts. Alexander Rowland Eustace, R.G. Marriott, F.W.B. Dynem, W.H. Trevor and F. Godrey-Faussett; Lts. E. H. Finch-Hatton, C.D.K. Greenway, C.A. Worthington, G. Mc.B. Ronald, H H. C. Baird, and F.S. Firth; 2nd Lts. Greatwood and Houblom; Capt & Adj. A. G. Geedes; Lt. & Q.M. G. Boom. RGA, Capts. Thomas and Pendergast. RAMC, Majors. Pike, Geddes, and Fayle; Capt. Chambers; Lt. Rattray
January 15, 1900... The Gaika with 2/East Kent Regiment......arrived at Cape Town yesterday. The Gaika brought part of the shipment of the Queen's Chocolate for the troops.
*Capt. R. A. Hickson was on board the St. Lawrence bound for South Africa as an officer in the 2nd regiment of the 3rd Buffs in (Cape Times Nov. 14, 1876) - the St. Lawrence was wrecked on the Great Paternosters Reef - 1881 he was in Cheriton (Folkestone), Kent (age 32) , born Kerry Ireland staying at Stranway house, Capt. in the Buffs. Wife of R.A. Hickson, A.E. Hickson, born London, Middlesex (no children 1881).... Robert Albert Hickson
Click on picture for larger image and notes on J B BACKHOUSE
J. B. Backhouse, Lieutenant-Colonel, East Kent Regiment (1888)
b. 1854 Deal, Kent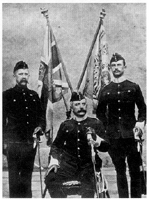 Click on picture for larger image
J. B. Backhouse, Lieutenant-Colonel, East Kent Regiment
These two photo's are on loan from a Buff's enthusiast, along with the information "thank you"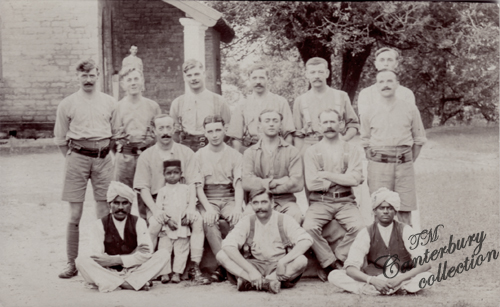 The Buffs - Boer War, South Africa 1899-1902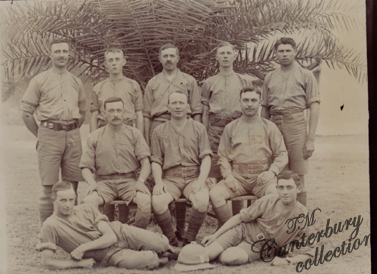 1902
Boer War
"Peace was made at the end of May 1902, and by the autumn both 2nd and 3rd Buffs had returned to England."
1902 - 2nd Battalion in Dover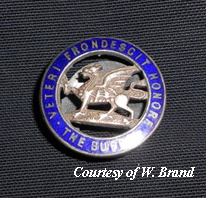 "The Buffs Veteri Frondescit Honore"
October 1902, the 2nd Buffs Regiment was at the Citadel, they left October 1907, for Aldershot, Hampshire.
The Buffs, 5th Batt, Champion Band (Military Section) Crystal Palace
1906-7 1907-8 1908-9 1910-11 and 1913-14
*Notes about the band above from a photograph listed for sale on the internet
1903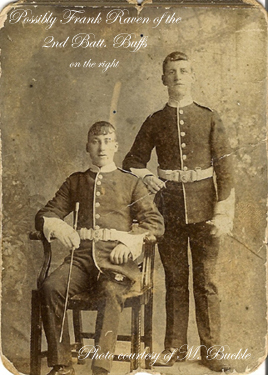 I believe that the attached photograph is of Frank Raven (standing) and one of his brothers. Frank attaesed in 1903 into the 2nd Batt. Buffs and served 8 years before going on the reserve. He was recalled in 1914 and was killed at Ypres on 20th October 1914. (courtesy of L.Beckler)

Notes on Frank Raven
1st Volunteer Battalion, the Buffs (East Kent
Regiment), The undermentioned Captains resign
their Commissions:—
C. B. Mercer. Dated 24th January, 1903
C. A. Moxon. Dated 24th January, 1903
L. H. Page. Dated 24th January, 1903
*The London Gazette, January 23, 1903
1904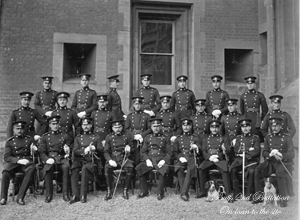 Location, Dover - Officers' Mess in the Citadel on the Western Heights (thanks to Paul and Phil for their confirmation)
Click on picture for larger image
Officers of the 2nd Battalion of the Buffs, 1904
*this photo is on loan by a Buff's enthusiast "thank you"
1905 Arundel Park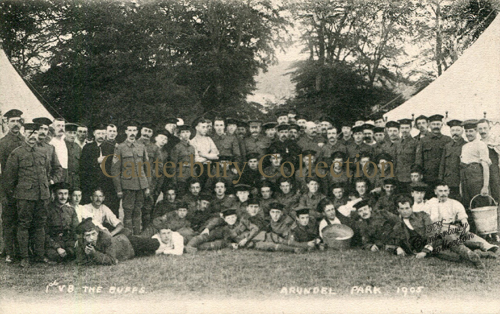 1st V.B. The Buffs, Arundel Park 1905 (from my collection)
1906 Dover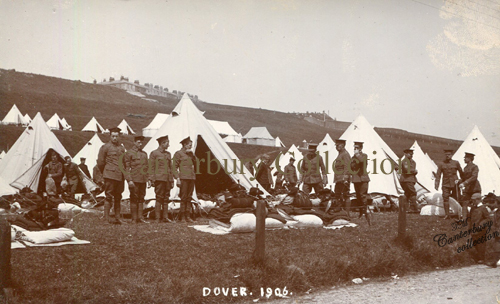 July 1907
In October next, Captain E. H. Finch-Hatton, D.S.O., East Kent Regiment, will complete his extended tenure in the adjutancy of the 3rd Battalion, and will revert to regimental duty with the home battalion of "The Buffs."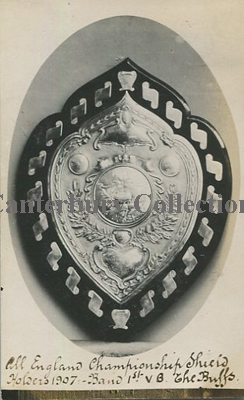 All England Championship Shield Holders 1907 - Band 1st V.B. The Buffs
July 1907
The War Office has decided to abolish the appointment of second in command in the Imperial Yeomanry, thus following the abolition of seconds in command in the line. In the future, the duties of second in command will be discharged by the senior major of the regiment.
Click on picture for larger image
The Army Billeting in Canterbury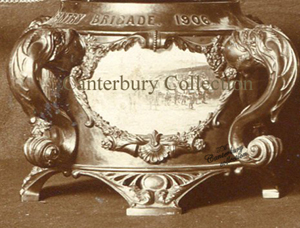 Infantry Brigade 1906
West Kent Volunteer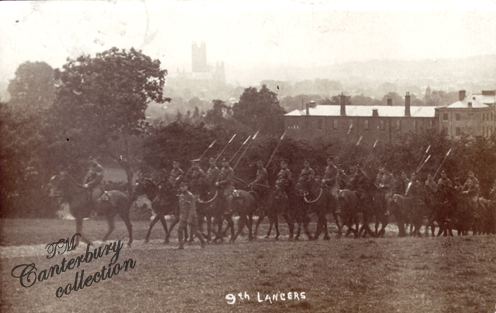 The 9th Lancers in Canterbury (showing the Military Hospital & the Cathedral in the background)
Sent to Mrs. Fletcher, 29 Nelson Street, Xaxby Road, York
Dear Mother, Just a line to tell you that I shall be coming on Furlough on Tuesdsay, arrive about noon. All the furloughs have to be finished before Christmas on account of the regiment going to Tidworth. When this was took we were going tent fagging. You can see Canterbury Minster. With Love, John XX (mailed from Canterbury 10PM, November 15th, 1912)
Kent Brigade, Camp Worthing 1912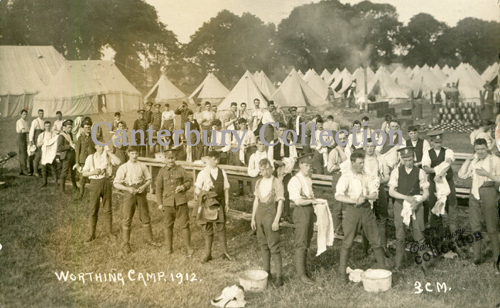 Worthing Camp 1912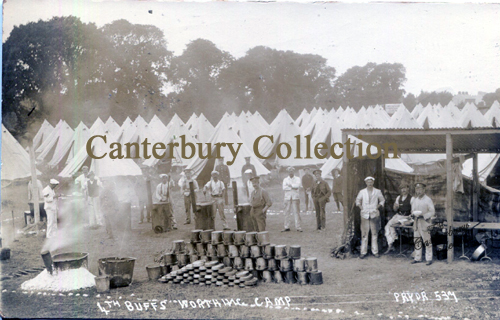 4th Buffs, Worthing Camp 1912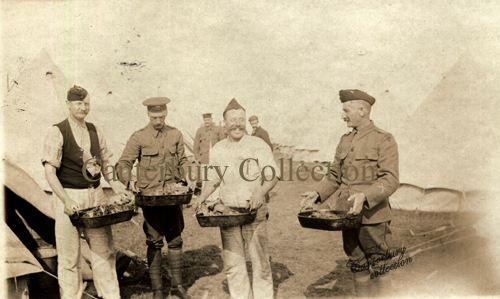 Buffs, Cooks c. 1912 possibly Worthing Camp
AUGUST 1913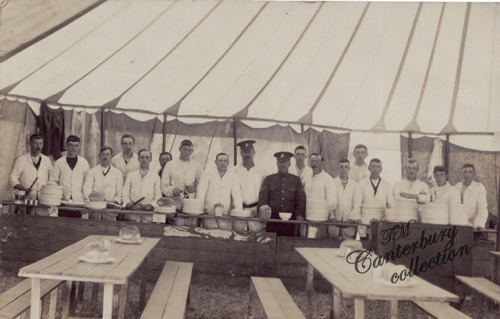 FIELD KITCHEN, MESS TENT
THE BUFFS
The postcard was mailed on August 8th, 1913 from Sussex to a Mr. A. Sinclair, 12 St. Francis Road, Folkestone, Kent
"Dear Bert, Due to arrive at Folkestone Jct. 6 PM Sunday. What do you think of 4th Buffs. Staffs George"
1914 CANTERBURY
Click on picture for larger image
A Group of Soldiers marked 1914 Canterbury *there were a few Battalions formed at Canterbury
1/4th Battalion August 1914 in Canterbury
2/4th Battalion Sept 1914
3/4th at Canterbury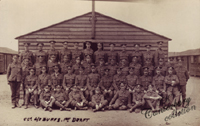 Click on picture for larger image
A Group of Soldiers marked C Company 2/5 BUFFS, 1rst Draft
429
5th Batt THE BUFFS Kent Regiment at CHATTENDEN 1915
BUFFS, TURNBRIDGE WELLS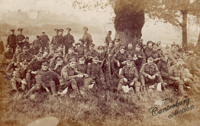 Click on picture for larger image
SOLDIERS DRESSED UP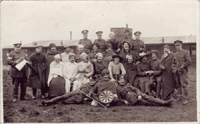 Click on picture for larger image
Posted from Canterbury November 26th, 1918 to Miss Elliott, South Croyden, Surrey
We are all dressed up & nowhere to go
BUFFS MEMORIAL - CANTERBURY CATHEDRAL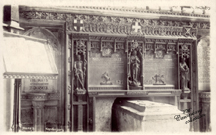 Buffs Memorial 1914-1919 in Canterbury Cathedral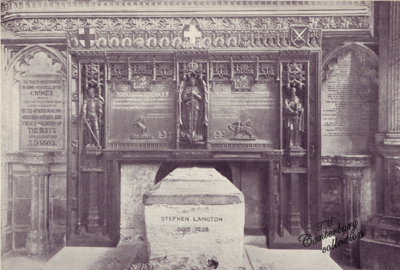 1927
1927 PAST & PRESENT ASSOCIATION (THE BUFFS) Depot, Canterbury (phone book)
2nd Battalion The Buffs
Presentation of New Colours, July 27th, 1928
1930
VETERI FRONDESCIT HONORE 1572-1930, booklet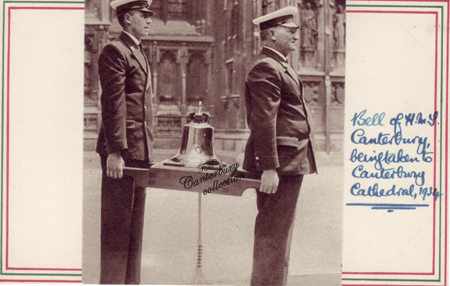 Bell of HMS Canterbury being taken to Canterbury Cathedral 1934
Postcard in my collection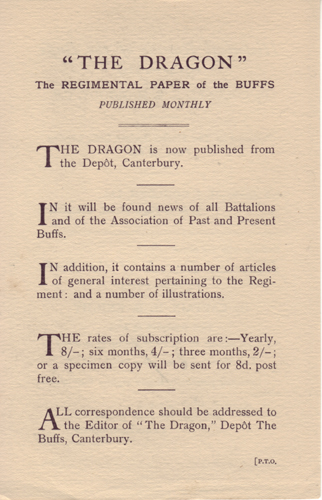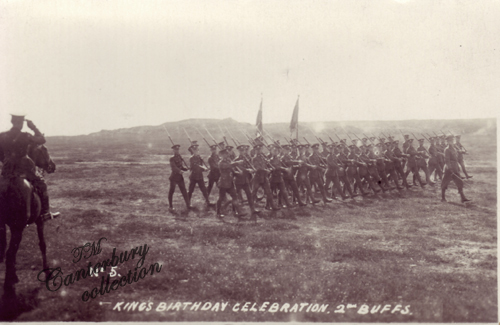 Kings Birthday Celebration, 2nd Buffs. Photographic poscard in my collection (no photographer or date or place noted)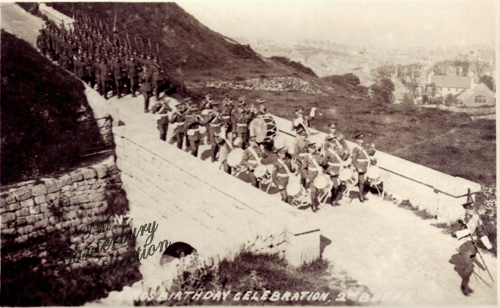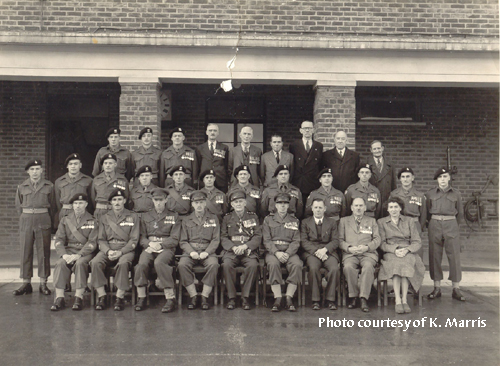 Buff's Depot St, Martins Hill, Canterbury, photograph of the permanent staff about Oct 1949
Photo courtesy of K. Marris
If you have any information or photo's from The Buffs that you wish to share, please
---
Motto "Veteri Frondescit Honore"....."With its Ancient Honour it is Evergreen"
---