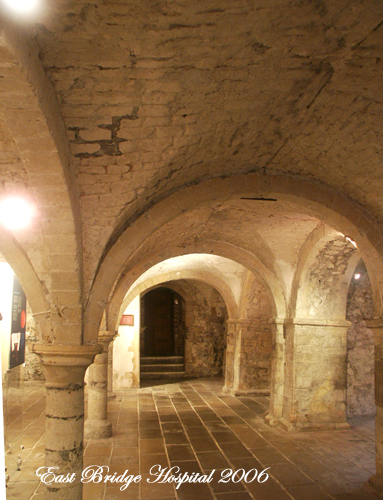 ____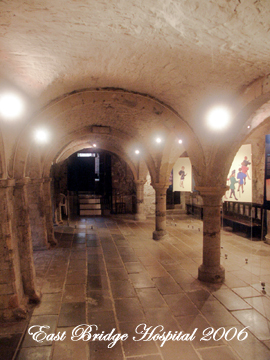 My photographs of the undercroft
"In the vault below, the pillars, after the same style, buried, we might say, almost out of sight in a cellar, which was doubtless once an ancient crypt" (John Brent 1879)
A view of the undercroft of the Hospital, which was built about 1180 - 1200, and which was restored in 1932. At one time it had been filled half-up with earth, likely as support for the structure above. As well, it had been rented out as a storage area, and used as the hospitals coal-cellar.
The center pillars are very thin, with "bell-shaped" capitals, which were initially situated on wooden piles, made of oak. This support system was used due to the nearness of the Stour, which flows directly on the north-west side of the Hospital. The piles last a long time under water, but decay when buried in earth.
Stanley Gordon Francis Wilson (two times mayor of Canterbury), initiated, and was in charge of the restoration work which took about 6 months. Mr. Campbell Ashenden was the architect.
There is a wonderful picture of the restoration work in Derek Butler's, Canterbury in old photographs, pg 78, ISBN 1-84015-037-8