~ HUXLEY FAMILY ~
CANTERBURY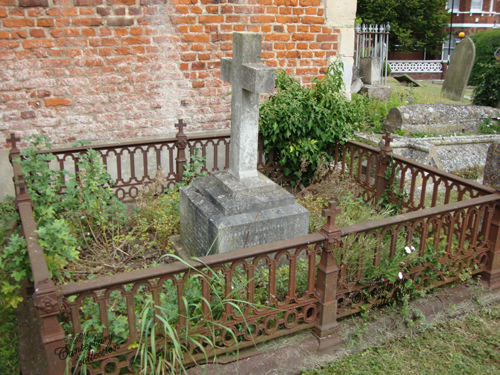 Buried in the same plot are Rev Thomas Scott Huxley (d. 23.3.1898), his wife, Elizabeth Ferguson Day (b. 2.4.1904) his mother, Jessie Scott (b. 10.2.1870) and his eldest son, John Day Huxley (b. 2.10.1871).

JESSIE SCOTT was born on 16.12.1800 and died on 10.2.1870 in Canterbury. She is the daughter of THOMAS SCOTT, who is the brother of SIR WALTER SCOTT, the novelist. Her mother is Elizabeth McCulloch was married on 16.12.1799 and died in Canterbury on 14.4.1848. Jessie Scott married Colonel Thomas Huxley in 1819. There are various extracts in Sir Walter Scott's letters where he mentions the upcoming marriage of his niece Jessie, to Thomas Huxley. She married Colonel Huxley in Canada, where her father, Thomas Scott, was Paymaster General. She returned to live in Canterbury after her father and then her husband died in Canada. She brought with her, her young son, Thomas Huxley.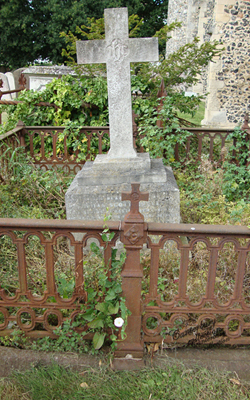 _____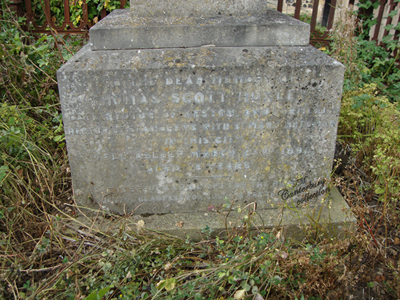 Thomas Scott Huxley was born in Quebec on 21.6.1822 where his father, COLONEL THOMAS HUXLEY, was stationed with his Regiment, the 70th Foot Regiment. Thomas Scott Huxley went to Oxford University, Exeter College, and graduated in 1841 with a BA and in 1845 with an MA. He married ELIZABETH FERGUSON DAY on 25th January 1857, in St Georges Church, Hanover Square and he was ordained as a priest in Canterbury in 1845. His first curacy was at St Alphege with St Mary Northgate, Canterbury (1845-1847), then he spent some time working in Netherfield, Sussex before returning to Canterbury where he was rector of St Andrew with St Mary Bredman for 12 years. He moved to Keston, Kent from 1877 to 1881 where he restored the Church and rebuilt the rectory house. He returned to Canterbury in ill health and died in 1898.

According to the Census returns, in 1841, he was 18 and living in St Dunstan Street, Canterbury.
In 1861, aged 38, he was living in Battle and was the Curate at Battle living with his sons JOHN DAY HUXLEY aged 3 years old and GEORGE THOMAS SCOTT HUXLEY aged 1 year along with his mother-in-law MARGARET ANN DAY.
In 1871, aged 48 he was living in Castle Street, Canterbury and was the Rector of St Andrew with St. Mary Bredman, Canterbury. He lived with his wife Elizabeth, who was born in Eccles, Suffolk, his children John Day Huxley, and George Thomas Scott Huxley, and his mother-in-law, Margaret Day, a fundholder.
In 1881, aged 58, he was living in The Rectory, in Keston, being the Rector of Keston. He lived with his wife, Elizabeth, and two of his wife's cousins, Alfred and John French.
In 1891 he was living at the Vicarage in Canterbury in the Parish of St Mildred with his wife. His first son, John Day Huxley died in 1871, aged 13 and is buried in St Dunstan's. Elizabeth Ferguson died on 2nd April 1904 and is also buried at St Dunstan's.
There is a lovely booklet, made by Elizabeth Ferguson Huxley for her second son, George Thomas Scott Huxley and his wife, Emily Charlotte Williams. It is 28 pages long. It has extracts from letters that were sent to her following the death of her husband, Thomas Scott Huxley in 1898. It includes letters from local clergy, bishops and prominent members of the Canterbury community. It also includes several extracts from the press: The Times, The Guardian, The Church Times and the Kentish Observer.
Finally, it describes the funeral: The first part of the Burial Service was conducted in the Nave of the Cathedral, where, notwithstanding the excessively inclement weather - a violent gale with a heavy downpour of sleet and cold rain - a large number of the citizens assembled to pay a last mark of respectful sympathy to one so universally beloved. Among others present were noticed: The Mayor - Mr George Collard, Captain Lambert, Mr H M Chapman, Rev L J White-Thompson, Mrs Farrar, Mrs B F and Miss Smith, Mrs Blore, Mrs Molony, Mrs Hodgson, Mr W A Lockee, Alderman Mason, Rev M F Evans, Rev J Patterson, Mrs Brian Rigden, Mrs Walsh, Rev Petre, Mr, Mrs and Miss Tice, Miss Knox, the Rev W H Saulez, Rev Pulling, Miss Cruso, Rev Cruso, Miss Ellison, Miss Payne-Smith, Rev Blissard, Rev E J Corbould, Mr Aitken, Mr Harvey, Mrs J Cowell, Mrs E Crow, Mr A J Berry (headmaster of Payne-Smith Schools) and several of the assistant masters of King's School. There were also in the Nave many others of all classes including a large proportion of the inhabitants of the City. At two o'clock the mournful procession entered the Nave by the north-west door and was met by the Cathedral choir, headed by the Precentor (the Rev F J O Helmore) the strains of Angels ever bright and fair, played by the organist having just died away as the choir commended chanting the sentences, The coffin, on the lid of which were some lovely wreaths was placed on a catafalque covered by a violet pull. The clergy in attendance were The Ven Archdeacon Smith, Canon Holland, Canon Mason, Canon Bailey, Minor Canon Loosemore, Minor Canon Gray, Rev A Stevens, Rev A J Galpin and the Rev R G Hodgson. Archdeacon Smith read the lesson, and the subsequent prayers were read by Canon Holland and the coffin was then carried down the Nave and out by the north west door.

In spite of the severity of the weather there were many persons assembled in St Dunstan's Churchyard, where the remains were deposited in a brick grave, the committal prayers being read by Canon Holland. He said that the bells of the Cathedral had tolled three times this week for the funerals of people they would miss. He knew enough of Mr Scott Huxley to know that his was a life of singular modesty and beauty, free from all worldly ambitions, and desirous only to serve Christ and His people as well as he could. His zeal for religious education, his devotion to the poor, his care for the tainted and fallen, were an example to them all.
**The Reverend Thomas Scott Huxley of 5 Castle Street, Canterbury, clerk, died March 23, 1898. Probate London May 2 1898 to George Thomas Scott Huxley esquire. Effects £ 416 17s 11d.
Thomas Scott Huxley, only son of Thomas of Quebec Canada, arm. Exeter Coll., matric. 11 Nov., 1841 aged 19; B.A. 1845, M.A. 1869, rector of St. Andrew Canterbury 1865-77, of Keston, Kent, 1877-81.
*thank you kindly to a Huxley family member who generously contributed the above information

PLEASE CAN YOU CONTACT ME IF YOU HAVE ANY FURTHER INFORMATION TO SHARE ON THE FAMILY