~ PIDDUCK FAMILY ~
CANTERBURY_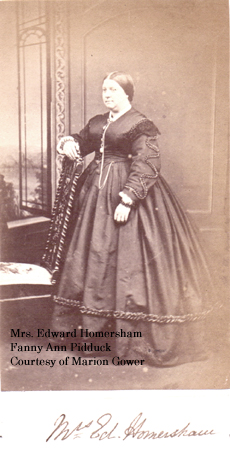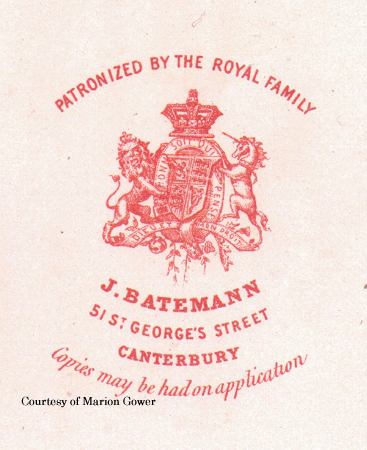 Fanny Ann Homersham (nee Pidduck), photo taken by John Batemann, Canterbury - photo courtesy of Marion Gower
Mrs Edward Homersham (Fanny Ann Pidduck), baptised 15th September 1828 Chartham St Mary, died 18th April, 1875 Blean, Kent. She is buried in the family grave. St Dunstan Churchyard, Canterbury. Her parents, William Pidduck married Anne Goldfinch (b. c. 1800, d. 1874), in 1824. Batemann Photographer.
Siblings - William Gilbert Pidduck (married Mary Ann BOORMAN), Henry Pembrook Pidduck, Ellen Collis Pidduck (married Peter ROBERTS), George Pidduck (died c. 1834), Isaac Neame Pidduck, Robert J. Pidduck, Elizabeth D. Pidduck, Edward Weatherby Pidduck, Sidney Pidduck (married Charlotte Emma FRANCIS)
1830 Poll of Electors
William PIDDUCK, Chartham, Kent, Yeoman
1865 Poll for two knights of the shire to represent the eastern division of the county of Kent (taken Tuesday, July 18, 1865)
Robert PIDDUCK, Wincheap Street, Canterbury
William Gilbert PIDDUCK, Wincheap Street, Canterbury
(Qualifying - parish of St. Mildred)
The Insurance Gazette, March 1, 1869 - Mr. W. G. Pidduck, who being sworn, state that he was Captain of the Volunteer Fire Brigade and had charge of the County fire engine in this city.
No. 32 St. George's Street, Canterbury
1882 County Fire & Provident Life Insurance Agents - W.G. Pidduck, district manager (William Gilbert Pidduck, Captain volunteer fire brigade)

No. 13 St. George's Place, Canterbury
1901 William PIDDUCK, Fire and Life Insurance Agent
1903 William Gilbert Pidduck *married 1849 in Middlesex, died 1912 in Canterbury
1917 Miss M. PIDDUCK
PLEASE CAN YOU CONTACT ME IF YOU HAVE ANY FURTHER INFORMATION TO SHARE ON THE FAMILY