~ PITT FAMILY ~
CANTERBURY

A detail from a indenture in my collection, November 16th, 1830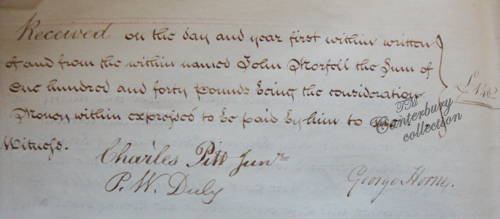 Bankrupts, July 1839 Charles PITT, the elder, and Charles PITT, the younger, of the city and borough of Canterbury, and county of the same, druggists and copartners. Sols. Kirk, Symond's Inn, and De Lasuax, Canterbury. Fiat, July 13. Pet. Cr. John Smith of Canterbury, turnpike gate keeper. (comprising reports of cases in the courts of chancery, Gazette, Friday, July 19 - Town and Country Fiats)

John Morfell and Charles Pitt
Amount of Fees recieved by the Clerk in the Years 1830, 1831, 1832, 1833, and 1834 and the Name of such Clerk
On an average about 25 pounds per annum, out of which the Clerk has to find Books, Summonses and Warrants. There is no Salary attached, no Assistant Barrister or other presiding Officer. Three Commissioners form a Court, and the Causes are decided by the majority present, Clerk, Charles PITT, who has been annually re-elected for 12 successive years.
Amount of Fees recieved by the Beadle in the Years 1830, 1831, 1832, 1833, and 1834 and the Name of such Beadle
On an average about 20 pounds per annum. No Salary. Wainford HOLMAN, Beadle
Total number of Days in each year that the court Sat
The Court is held every Thursday, consequently 52.
Total Number of Debts sued for
- information -
Of Costs incurred
- information -
Total Number of Suits inititated in each year
1830: 651, 1831:732, 1832:708: 1833:552, 1834:728
Total Number of Commissioners
23: viz. The May and Recorder for the time being, ex. officio. 2 Aldermen, 5 Common Councilmen and 14 Householders, elected by the Mayor and Magistrates.
Charles PITT, Clerk
CANTERBURY
The court of requests for this city possesses the power of imprisoning the person in exectuion, and originally had jurisdiction over 14 parishes in the city; since the Municipal Corporations Reform Act, the jurisdiction is extended to the following parishes and places, viz.:
The parishes of St. Dunstan, and St. Stephen's, within the borough of Canterbury, the parish of Holy Cross Westgate without, the Grey Friars, Eastbridge Hospital, the Black Friars, the borough of Staplegate, the Old Castle Precincts, the White Friars, and those parts of the parishes of Thanington, Nackington and Patrixbourne which are situated within the limits of the borough of Canterbury; St. John's Hospital, St. Martin, St. Paul, including the Borough of Longport; the villes of Christ Church, the Archbishop's Palace and St. Gregory, the precincts of the dissolved monastery of St. Augustine, including the Almonry, and those parts of the parish of Littlebourne and the borough of Fordwich which are situated within the limits of the borough of Canterbury.
March 4, 1836, Charles Pitt, Clerk
1840 - Charles PITT, conveyancer, 7 Palace Street
1840 - Charles PITT, jnr., Chymists & Druggists, 58 Palace Street
1840 - Court of Requests, Guildhall (open on Thursday), Charles PITT, Clerk
*1840's a PITT family living in Guildhall - Joseph PITT, Gunmaker
PLEASE CAN YOU CONTACT ME IF YOU HAVE ANY FURTHER INFORMATION TO SHARE ON THE FAMILY