~ WHITFIELD FAMILY ~
CANTERBURY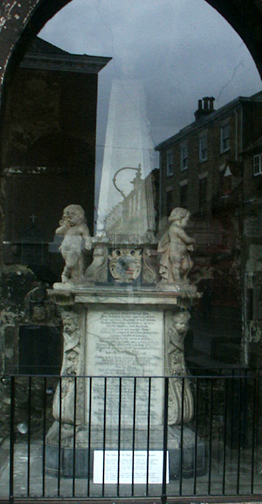 Whitfield Monument at St. Mary Magdalen
John WHITFIELD, in 1687, bequeathed twenty shillings per annum, arising from a house in St. Margaret street, ten shillings of which to be distributed to the poor in bread, two shillings and sixpence to each of the clerks of the parish in which his two engines then stood, and five shillings to the churchwardens of St. Margaret's for keeping the said engines in repair. One of these engines he bequeathed to the town, and the other to the parish of St. Mary Magdalen. The former was given up to the Kent Fire Office, together with the twenty shillings before mentioned, which was to be employed as specified.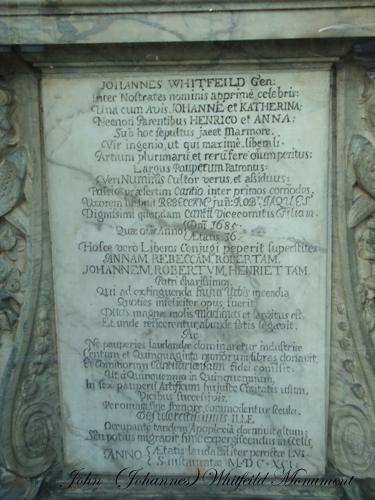 The middle of the High-street is crossed by two streets; along that to the southward, called St. Margaret's, and Castle street beyond it, the high road leads by the castle and the suburb of Wincheap, to the town of Ashford; in the former is St. Margaret's church, and not far from it, on the opposite side of the street, a handsome house called the Whitfield-house, from its having been for many years the residence of the family of Whitfield, a branch of those of Tenterden, in this county; of whom John Whitfield, esq. died possessed of this house in 1691, whose descendants resided here till his great grandson John Whitfield, esq. (fn. 8) alienated it to John Jackson, esq. an alderman of the city, who resided in it till his death in 1795; after which it was sold by his devisees to G. Gipps, esq. who again conveyed it to Mrs. Lydia Frend, who occupied it as a boarding school for young ladies. She is since deceased, and it now belongs to Mr. Thomas Frend, and still continues to be occupied for the like purpose.
John Whitfield, gentleman who died in 1691, was son of Henry and Anne, and grandson of John and Catherine Whitfield; he appears by his will proved in Prerogative off. Canterbury, to have been of the law, and of the society of the Middle Temple; but he seems to have had no great opinion of his profession, which he debarred both his sons from following. He appears to have been an ingenious man, for he mentions in his will, his fire-engine, which he himself had constructed, and the furnace which he had lately built in St. Margaret's in which he had made some glasses. He was a man of considerable property both in lands and money, and was a good benefactor to this city, of which the reader will find an account hereafter, among the charities left to it. By his will, he gave, among other bequests to his son John, a large medal of Arabian gold, of about 10l. value; a large medal of the king of Sweden; his mother's locket of diamonds in 3 parts; his grandfather's sealed ring; his striking watch; the Estritch cup**, and queen Elizabeth's glass, which was his grandfather's, and 40 rings of gold made with the motto of his coat of arms engraven on each of them, to be given to his particular friends and relations; all which are mentioned here to show his respectability of life. He married Rebecca, daughter and coheir of Robert Jaques, esq. of Elmsted, by whom he had a numerous issue, of whom two sons lived to maturity, and three daughters. Rebecca married to William Henman; Roberta first to Sampson Pierce, and secondly to David Jones: and Anne to the Reverend Owen Evans. Of the sons, John was of Conterbury, and possessed this house, and Robert was of Chartham deanry, and by his second wife Anne, daughter of Herbert Palmer, esq. left several children. John Whitfield, esq. the eldest son above-mentioned, died in 1705, leaving Anne his wife surviving, (who married secondly Laurence Bridger) and one son John Whitfield, esq. of Canterbury, who married Ann Wase, and left by her, who died in 1758, three sons, John, of Canterbury, and Henry and Wase, who both married, but died without issue, and two daughters; Anne married to the Rev. John White, of Minchinhampton, and Mary to William Philpott, gent. attorney at law. John Whitfield, esq. of Canterbury, the eldest son, resided in this house till he alienated it. He married Elizabeth Johnson, by whom he left issue three sons and four daughters. They bore for their arms, Argent, a bond, between two cotize; engrailed, sable. Many of them he buried in St. Mary Magdalen Burgate, church, in this city.
**The Ostritch Cup was sold in 2008 for c. 577,000 pounds
1766 Marriage of John Whitefield Esq. of Canterbury to Miss Johnson of the same place.
1794 - Death Sept 27th, in St. Paul's, Canterbury, Mrs. WHITFIELD, relect of the late John WHITFIELD, of St. Margarets, in that city. (KR)
PLEASE CAN YOU CONTACT ME IF YOU HAVE ANY FURTHER INFORMATION TO SHARE ON THE WHITFIELD FAMILY