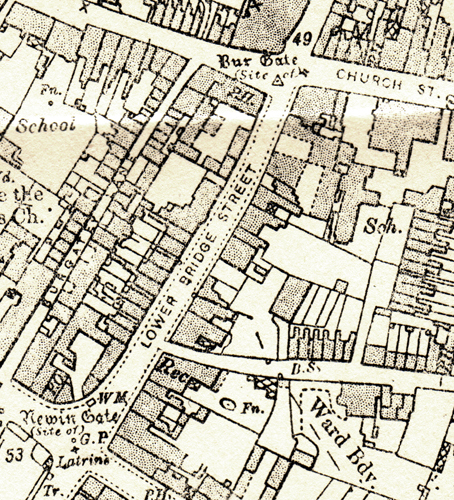 No. 1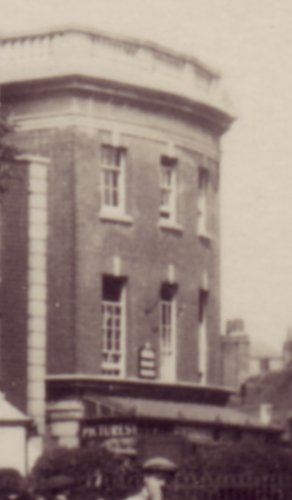 William GEORGE, Tailor *
1889 Vacant
1903 Henry Octavious PRESTON, L.R.C.P. & L. M. Edin., M.R.C.S. Eng. Surgeon, and medical officer, 3rd district, Bridge union (firm. Preston & Prentice)
1917 Crayford House, H. Octavius Preston Esq. L.R.C.P., M.R.C.S.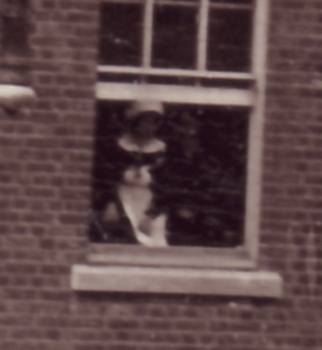 I believe this is No. 1 Lower Bridge Street with the nurse just visible in the window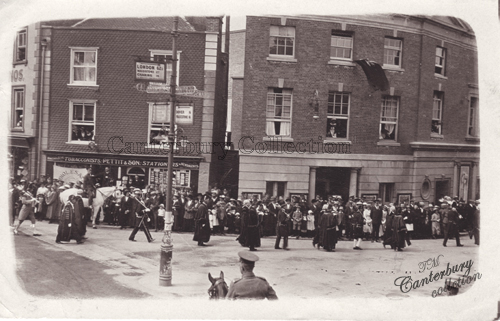 No. 2
Sarah NEWPORT *
Edward BURLS, Bankers Clerk *
"Edward Burls. You are in the employment of the London and County Bank here? Yes. You have taken from your books at my request some information with regard to cheques and cash paid in by Mr. Mudford between May and September 1879? Yes. Have you them here? I have them here (the witness produced them and handed them in) Between the 20th May and 30th September. Have you also taken the details of two payments, one by Abrahmas and the other to Abrahams, dated 27th February 1880, and 23rd May 1880? You will find those on one of the sheets I have given to you. Have you also given the details of the credits to Mr. Mudford on the 10th May 1880 and the 2nd July 1880? Yes, those are also on that written statement. ......" Parliamentary Papers 1881
1889 Alfred WARREN
1917 Arthur Wrake, painter
No. 3
Charlotte M. Thomas, Lodging House *
1889 Frederick Wallis
c. 1902 W. Attwaters & Co. Electric Light & Power Engineers. Specialists in country house lighting. Accumulator Maintenance Undertaken. Estimates Free. Tel. 0187
1917 Mrs. Mellin
No. 4
1873, Return of owners of Land - Mrs. Larkin, 4, Lower Bridge Street, Acres 12 1 25 Rent 25 10
1889 Charles Stapleton
1917 Herbert Williams, Tailor

Lower Bridge Street c. 1920's
No. 5
1870 Henry E. Hutchins, 5 Lower Bridge Street - Guy's Hospital Reports
Alfred Pilch, Brewer &
1889 American Dentists Association; resident manager, Hamilton Summers
1917 H. Speller
No. 6
John GIBBONS &
*John Gibbons and his wife Esther are buried in the non-conformist burial ground in Wincheap
1889 - 1917 John Gibbons JACKMAN
No. 7
Osmond BEER, Brewer &
1889 Frederick FINN
1917 Edward WAND
No. 8
Jeffery BARTON, Veterinary Surgeon &
1889 George Arthur Story, 8 Lower Bridge Street, Canterbury. 1878, Oct. 5. In practice before July 22, 1878 *The Dentists Register 1889
1889 J. F. COZENS, House agent and valuer
1917 G. E. DASHWOOD, ironmonger
No. 9
Katherine E. LEMAR, School Mistress &
1889 Miss M. Le Mar, Ladies' School
May 1896 - Respectable girl wanted, about 15 to sleep at home. Apply 9 Lower Bridge Street, Canterbury
1917 Mrs. Dashwood, Confectioner
No. 10
Frederick Foster, Coachman &
1889 William Thomas PRETT, Teacher of Music
1903 Wm. Thos. Prett, Teacher of Music
1917 Alfred Horton
No. 11
1870's - 1889 George CROW, Livery stable keeper - Crow's Weighbridge
1917 St. George's Canterbury Theatre Co. (ltd.) J. H. Wills, sec.
St. George's Place, St. George's Gate, Upper Bridge Street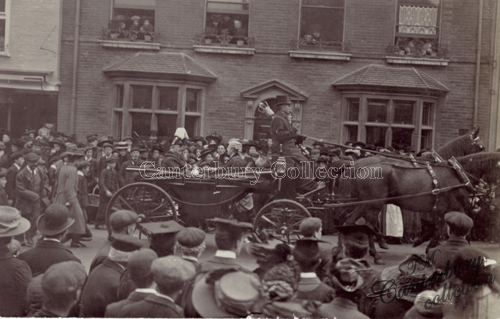 Francis Bennett-Goldney and Henry Fielding the Town Clerk in front of the house of James Reid of Lower Bridge Street. This photo postcard was taken May 9th, 1910, during the proclamation.
No. 12
*this building was destroyed in the bombing of 1942
Frances Goodban &
*1882 Mr. E. W. Reid scholar of Cavendish College, Cambridge, and son of Dr. James Reid of Canterbury, has obtained a first class in the Natural Sciences Tripos. Cavendish has made a good start in more respects than one already.
1883 James Reid *purchased two copies of Saint Bartholomew's Hospital Reports
1889 J. Reid F.R.C.S. Surgeon
1903 James Reid F.R.C.S. consulting surgeon to the Kent & Canterbury Hospital
1905 James Reid, Esq. (Archaeologia Cantiana)
1911 - James Reid who died at Canterbury, England on September 12, was born in 1821 at Hampstead, London. After serving as apprentice to a medical practioner...
1917 Dr. Ferguson, Surgery

Showing James Reids house No. 12, as well as No. 13, 14 and No. 15 St. Martins Rectory on the far left (also showing the theatre sign in the front far left)
No. 13
James REID &
1889 Edward Woodruff, Butcher
No. 13a
1917 Walter George, Hairdresser
No. 14
William Wilkinson, Butcher &
1889 - 1917 Michael Coplans, Tailor
No. 15
Susannah Page, Innkeeper & (15 and 16)
Peter Marten, J. P., 15 Lower Bridge Street, Canterbury, Acres 656 2 11 Rent 677 12. Return of owmers of land, 1873 (Kent)
Peter Marten, Canterbury Acres 512 2 26 Rent 799 15
Marriage *BARNES - MARTEN, on July 31 at St. George's Church Canterbury, Arthur Richard Barnes, M.B. of West Bromwich, Stafford shire, fifth son of the late Henry Barnes, Esq. of Faversham to Mary Elizabeth, youngest daughter of Peter Marten, Esq., J. P. and D.L. of Canterbury, and Beach House Deal. 1877
Marriages 1877 - MARTEN - HOLTTUM - On June 5, at St. Martin's, Canterbury, Stephen Watson Marten, of Shalmsford bridge, Chartham, third son of Peter Marten, Esq., J. P. to Bessie Louisa, only daughter of Charles Holttum, F.R.C.S.E. of The Friars, Canterbury.
1889 Rev. Leslie E. Goodwin, St. Martins Rectory *was present on Thursday, June 28th at the celebration of the Holy Communion in the College Chapel at 7:30 a.m. (St. Augustine's College), the Rev. Leslie E. Goodwin (St. Martin's and S. Paul's Canterbury)1883
Leslie N. Goodwin, Clerk in holy orders (member of the Kent Archaeological Society 1887)
1917 Rev. W. L. Green M.S., St. Martin's Rectory
Ivy Lane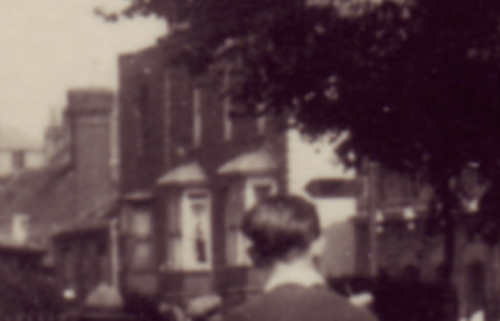 View from the Cattlemarket of buildings in Lower Bridge Street
No. 16
1889 Mrs. Peter Martin
Benedicts Marten (w)
1917 Richard Sydney Newman Faro Esq. L.D.S., R.C.S. (Dental Surgeon) *photograph of him in the book "The Kent and Canterbury Hospital 1790-1987" pg 72
No. 17
Peter Marten, Magistrate & (see number 15 above)
1889 to at least 1903 William Gillman, Master Tailor (his daughter Edith is an Art Student)
1917 James PARTRIDGE
No. 18
Georgina COOPER &
1882 George Whiting COWELL, M.R.C.V.S., Veterinary Surgeon
1884 George Whiting Cowell, 18 Lower Bridge Street, Graduated April 22, 1867 London *The Register (and Directory) of Veterinary Surgeons 1884
1889 John Sheppard, Junior, Professor of the Pianoforte
1917 Reginald Metherell
No. 19
1889 J. R. HALL
1917 Herbert WALKER
Invicta Motors (no. 19/23)
No. 20
1889 Mrs. CRIPPER
1917 H. R. Smith
No. 21
1889 Mrs. COLLARD
1903 Samuel Abson, Commercial Traveller
1917 A. T. House, Plumber
No. 22
1889 Mrs. Mary Ann Cooper
1917 Henry Mead Briggs, F.A.I., Auctioneer (Richard Mead Briggs, son of Henry Mead Briggs b. March 25, 1902, went to the King's School)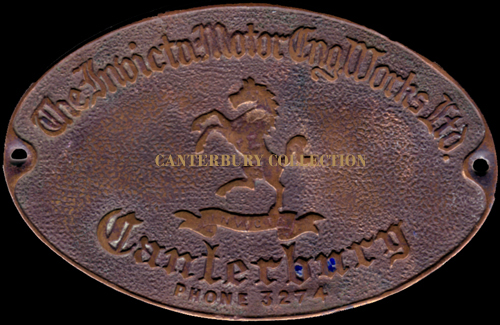 No. 23
1889 Beer & Co.'s Barrel Depot
Invicta Motors (no. 19/23)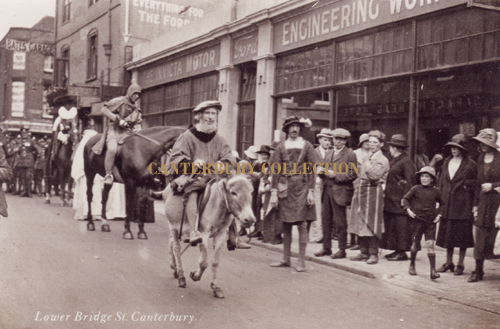 A postcard in my collection - Saunders
c. 1927
No. 24
*also known as 18 Church St. St. Pauls
* A photo of the front of the shop in Canterbury A second selection by Derek Butler
1889 W. Reynolds, Grocer & Wine Merchant
1917 Brown's Stores, Grocers, Provision, wine and spirit merchant
Mrs. Brown "Spirella" corsetiere
Church Street, St. Pauls corner
(Jan 1896) The sudden death of a chemist's assistant named Leigh Nash Morgan occurred on the 1st. Not feeling very well, deceased had obtained leave of absence for an hour, went to his lodgings in Lower Bridge Street and retired to bed. Some time after, his wife, hearing a peculiar noise, went to the room and found him dead. Deceased was 30 years of age. At the inquest it was shown that a minute quantity of alkaloid corresponding to that of aconite was found in deceased's stomach, but the jury returned a verdict of "death from natural causes." The Kentish Gazette & Canterbury Press, Saturday, December 26, 1896 (likely the son of Mary Eilen Morgan of Briston, Gloucestershire. She was the wife of a Chemist & Druggist. Leigh Morgan was born c. 1866 in Swansea, Glamorgan, Wales)
*He died unmarried at Lower Bridge Street, on ? May 1870; he was buried at St. Gregory's Church also in Canterbury. Oxford Dictionary of National Biography 2004
---